NHIF scheme has been a life saver to countless Kenyans.
According to an opinion piece published in the Star by Siddharth Chatterjee the UN Resident Coordinator to Kenya, says among the poorest in Kenya, only 3% have health insurance, which is provided by the National Hospital Insurance Fund (NHIF).
The article continues to say
Among the wealthiest, many who also have private cover, this rises to 42%, indicating again that the poorest are at risk of being left behind even further, and do not have an appropriate safety-net to fall back on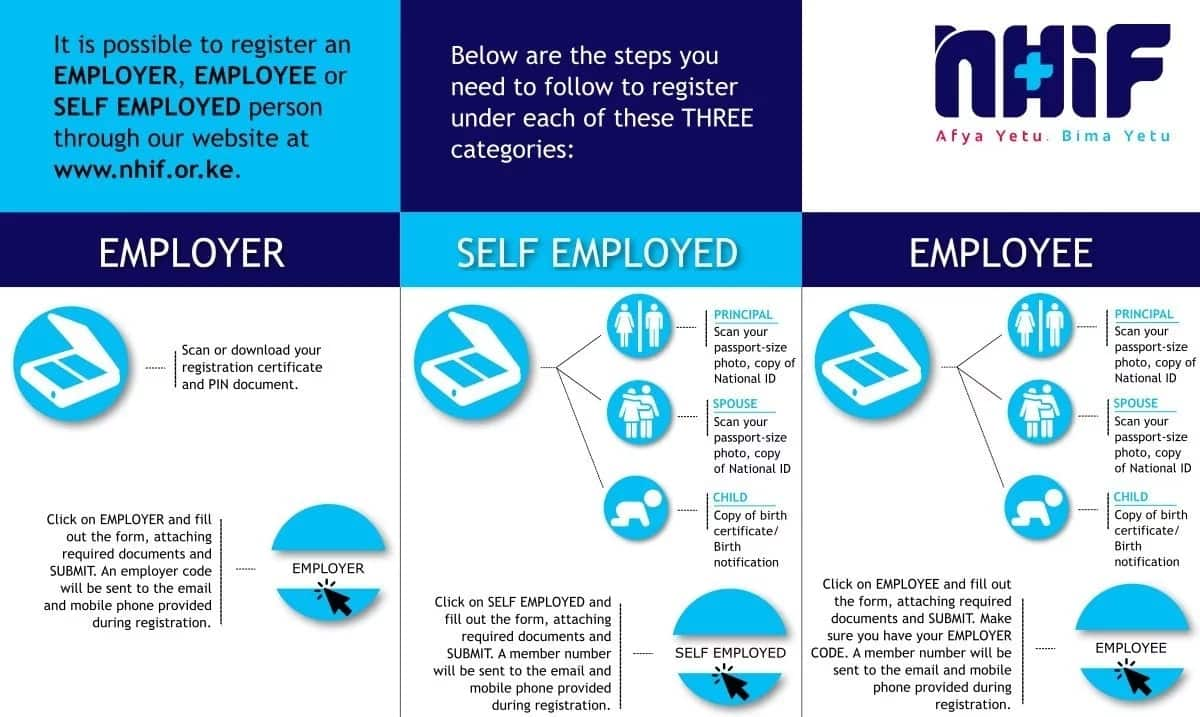 Health Cabinet Secretary Sicily Kariuki recently unveiled a team of experts to spearhead radical reforms at the NHIF. This new initiative will build on past efforts at reforming NHIF, which were only partially implemented. The team will analyse the financial sustainability of NHIF, oversee legal and regulatory reforms among other propose organisational reforms to reposition NHIF as a national social health insurance provider and ensure its accountability and transparency.
How NHIF works:
There are certain operative measures put in place to ensure the fund benefits all without misuse. For instance the fund limits the number of hospital visits one can make in a year and still have their bill covered. Other than these the state parastatals check eligibility of cover; not all members can be covered by the scheme.
How to check NHIF Account status online
Here is the step by step analysis of how to check NHIF account status online:
With your internet enabled device, get to the NHIF official website: www.nhif.or.ke
If you are visiting the site for the very first time, you need to first register in order to receive the services. You need NHIF card numbers, a valid email address and a day working phone number in case they would like to reach up to you for enquiries or other reasons.
This follows several prompts to fill up other personal details which should be dully filled before saving or submitting.
Develop a password that you will use every time you log onto the portal, this should be easy to remember yet not so obvious.
However, it can be reset in case you have completely forgotten your password for the NHIF account status online enquiry. Technically, this is how to create an NHIF self service individual account. Now, log onto the NHIF self service portal and proceed on to get your NHIF account status online. Information about how you make the monthly NHIF payment, balance, anytime one has defaulted, activation period among other details. For security of your bio, log out from the device after you are done checking the NHIF account status online Kenya.
By use of phone
Go to the main menu on your mobile phone and select the message icon by touching if using an android phone or just click on the icon for QWERTY phones. This opens the message thread for inbox, at the top there is a compose prompt, click on it. At the message space, type ID, a space followed by the ID number or the Passport number if applicable. For example, ID 123456 sent to the NHIF number which receives and processed details for you. This message should be sent to 21101 which is NHIF recipient. Information regarding your NHIF account status will be processed and send back to you in a text message. Note a service charge of ksh. 10 applies.
Penalties
The NHIF penalties for late payment Kenya apply in two varied ways; for those in the formal and informal sectors, treatment is done separately. If you are in the formal employment, and fail to pay timely, then the penalty you attract equals the amount you are supposed to contribute. This implies you will pay double the amount. If in informal employment, a 50% charge will have been attracted following late payment. If you contribute ksh. 500 monthly to the NHIF, the late payment means you will pay kshs. 750. All monthly contributions should be made on or before the 9th of every month. NHIF payment made after this date is considered late payment and attracts penalties. So how does one make their monthly NHIF contribution?
Finally, NHIF payment can be made through the use of mobile money transfer service; M-Pesa. Money is loaded to the individual Safaricom mobile phone number, money is then transferred to the National Hospital Insurance Fund through the NHIF M-Pesa pay bill number 200222.
Here is the procedure:
Go to M-Pesa menu and select the pay bill option Enter the NHIF M-pesa pay bill number, 200222
Enter you ID Card number in the subsequent lead
Key in the amount – NHIF payment monthly contribution
Enter the M-pesa pin and  a confirmation message is then sent  acknowledging that the money is received.